【Last minute announcement】KIZU Oneman Show 「Zantou」 Special Premiere screening!
To celebrate the release of KIZU LIVE DVD『KIZU Oneman Show 「Zantou」2023.3.26 NHK Hall』, a 1 night only special premiere screening will be held on Aug. 1st(Tue.). Don't miss the chance to watch KIZU's live on the big screen with a evolving sound!
※Members are planned to held a stage greeting.
※Ticket presale is starting today. Please be aware that the application aceptance period is quite short.
We are waiting for your question to KIZU. Please send yours!
You will find the question form
HERE
.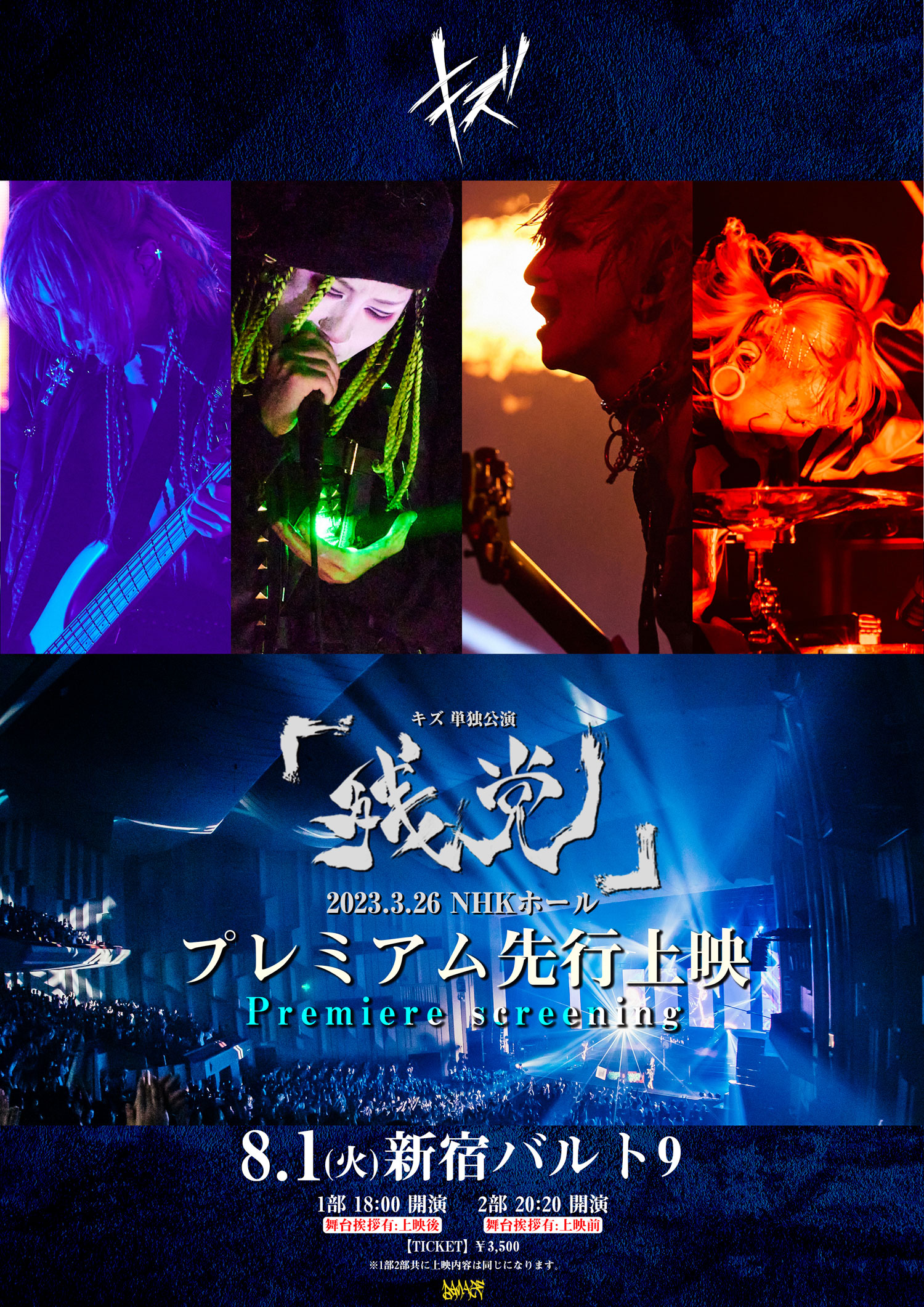 ■TITLE
KIZU Oneman Show 「Zantou」 Special Premiere screening
■SCHEDULE
Aug. 1st(Tue.), 2023 TOKYO・
Shinjuku Wald9
【1st session】Starting at 18:00 ※A stage greeting is planned to be held after the screening.
【2nd session】Starting at 20:20 ※A stage greeting is planned to be held before the screening.
※The screening will be the same for both the first and second session.
■GREETING GUEST
KIZU
■TICKETS
¥3,500 (Tax in)
■TICKET SALES
e+ presale (lottery)
https://eplus.jp/ki-zu0801/
Application term:2023/7/15(Sat.)12:00~7/19(Wed.)23:59
Draft results:2023/7/22(Sat.)13:00~7/23(Sun.)18:00
Payment term:2023/7/22(Sat.)13:00~7/24(Mon.)21:00
Pick-up period:starting from 2023/7/30(Sun.)14:00
Payment method:Convenience store / ATM / Credit card / Net banking (Payeasy)
Where to pick up:Family Mart / Seven Eleven (paper ticket)
※Additional fees to apply to the ticket price.
※This presale is not on first come first served basis, so please make your application within the period stated above. The draft results as well as the seat numbers will be not influenced by the application date and time, as they will be randomly selected among all the applicants.
※Up to 4 tickets per applicant.
※Entrance staff may require an ID check. Please make sure to bring an ID document with you.
General sale at Shinjuku Wald9 (First came first served basis)
※General sales at the cinema will not start if the tickets get sold out during the presale.
https://tjoy.jp/shinjuku_wald9
Sales start time:7/27(Thu.)24:00~(7/28(Fri.)0:00~)
※Online sale.
※You will need to register (free of charge) beforehand. Check the website of the cinema for more information.
※The following payment methods are available:
・ONLINE PAYMENT: Credit card / Amazon Pay
※あとから決済(Ato kara kessai) will be available until 2 days before the screening.
More information about あとから決済(Ato kara kessai)
HERE
※To be on sale at the ticket office of the cinema starting from the opening hour on 7/28(Fri.) (if not sold out during the online sale)
■INQUIRIES ABOUT TICKETS
Questions about e+ preorders:
https://support-qa.eplus.jp/hc/ja
■ABOUT MANNERS TO BE OBSERVED DURING THE SCREENING
※Please watch the screening from the seat you have a ticket for.
※Please sit down during the whole screening.
※Please note that depending on the circumstances, the above stated information may be changed.
※Please be aware of the ones around you and avoid coughing and chatting.
※It is allowed to cheer and sing along. (Please, enjoy the show without disturbing the ones around you.)
※Please refrain from coming to the cinema if you are feeling sick.
Please check the infection prevention strategy at the link below.
Shinjuku Wald9 
https://tjoy.jp/shinjuku_wald9/theater_news/detail/21384
■WARNINGS
※This will be the screening of the Blu-ray disc.
※Please note that photos and footages officially taken during the screening may be used in various media.
※When purchasing tickets, please be aware that during the screening the audience may sing, clap the hands etc.
※Tickets cannot be changed or refunded for any reason, except the cancellation of the screening itself.
※Audio and video recordings / photography taken by any kind of device such as and not limited to cameras and smartphones are stricktly prohibited.. Unauthorised reproduction or sharing on the internet or other media may result in legal liability. In the event someone in the audience is found out recording, they will be expelled from the cinema upon the deletion of all the data concerned. No refunds available.
※The screenings may be interrupted for safety reasons in case of earthquake or any other disaster warning.
※Contents may be subject to changes without prior notice.