KIZU ONEMAN SHOW「Zantou」OFFICIAL MERCHANDISING
KIZU ONEMAN SHOW「Zantou」
2023.3.26(Sun.) NHK Hall
OFFICIAL MERCHANDISING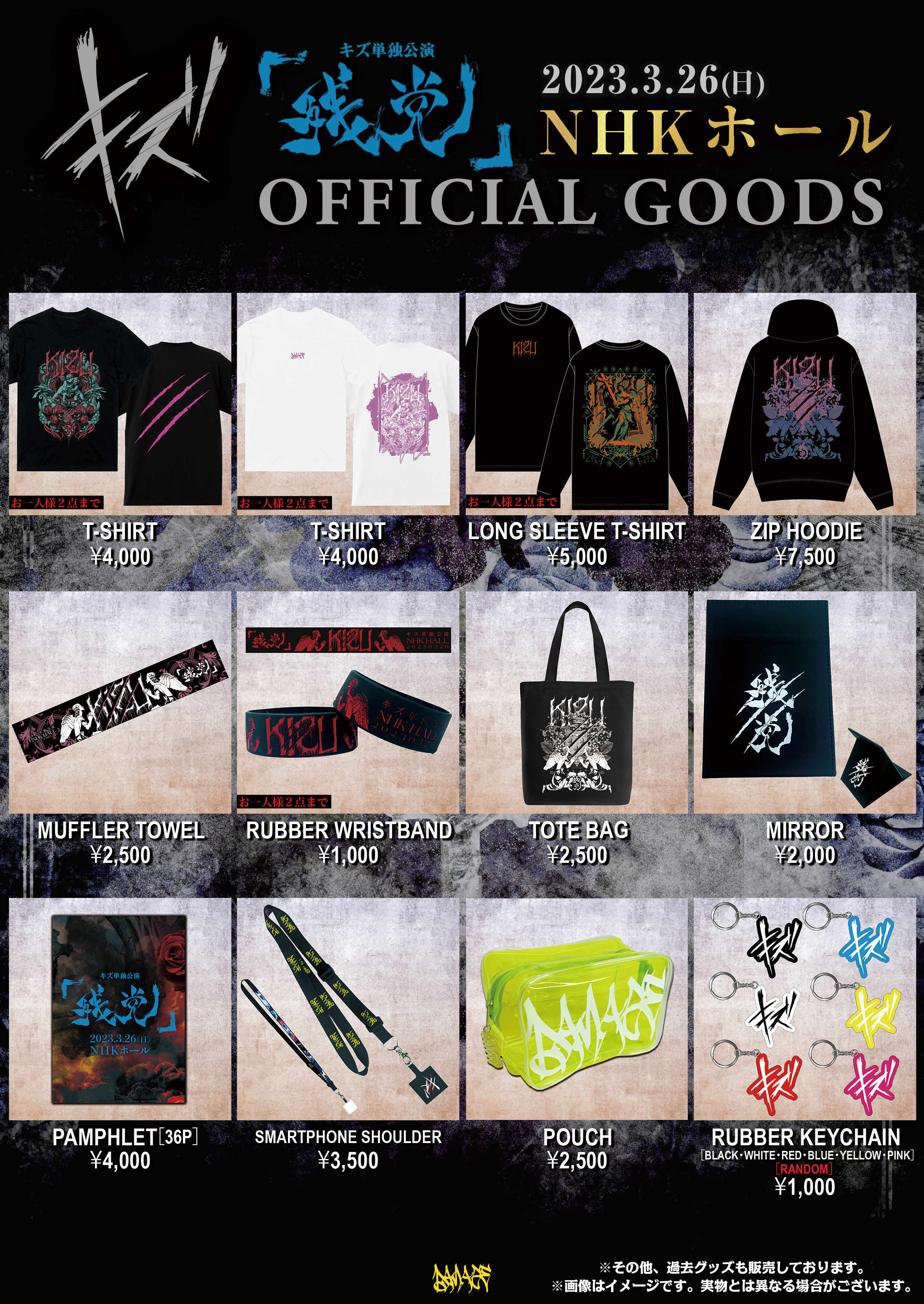 ■T-SHIRT
¥4,000
[SIZE: L77×W58cm]
■LONG SLEEVE T-SHIRT
¥5,000
[SIZE:L78×W58cm]
■ZIP HOODIE
¥7,500
[SIZE:L76×W63cm]
■MUFFLER TOWEL
¥2,500
[SIZE:210×1140mm]
■RUBBER WRISTBAND
¥1,000
■TOTE BAG
¥2,500
[SIZE:W345×H355×Gusset100mm]
■MIRROR
¥2,000
[SIZE:W121×H170mm]
■PAMPHLET
¥4,000
[SIZE:B5 36P]
■SMARTPHONE SHOULDER
¥3,500
[SIZE:20×1500mm]
※WARNINGS:
Please attach the product to your smartphone only.
Using the product without taking off the film on the back may result in damages to the product / device.
Don't pull the strap.
■POUCH
¥2,500
[SIZE:W165×H110×Gusset90mm]
■RUBBER KEYCHAIN
¥1,000
[BLACK・WHITE・RED・BLUE・YELLOW・PINK]
[Random sale]
※Some past merch is going to be on sale too.
※Pictures are for illustrative purpose only. The actual products may differ from the images.
【PRESALE】
From 13:30 to 15:30
※Depending on the situation, the presale time stated above may be subject to changes.
---
【ABOUT CREDIT CARD PAYMENT】
You may pay by credit card.
(Visa、Mastercard、JCB、American Express、Diners Club、Discover)
The credit card payment system is based on mobile phone networks. Depending on the signal, we may be unable to process the credit card payments.
【ABOUT PayPay PAYMENT】
You may pay by PayPay.
■How to use PayPay
・Use your smartphone to access to PayPay home page and chose "SCAN"
・Read the QR code available at the merchandising booth
・Enter your purchase total amount and select "NEXT"
・Show your your screen to the sales staff and select "PAY"
・Payment completed
※Please make sure to charge your account before hand. Do not charge at the merchandising booth.
※PayPay payment may be suspended without prior notice.